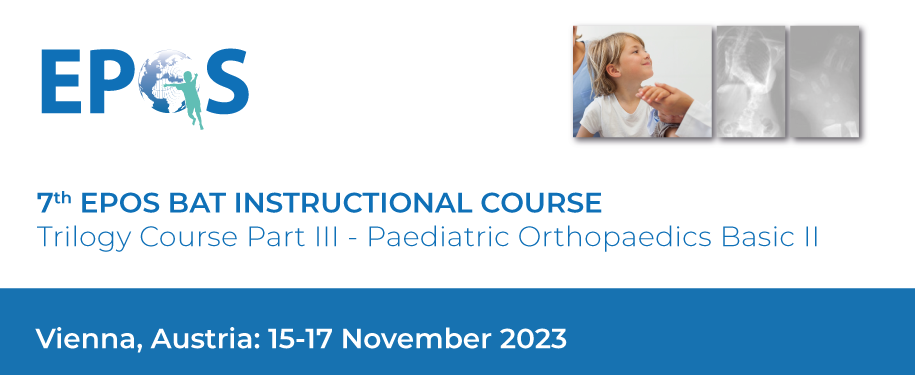 7th EPOS BAT INSTRUCTIONAL COURSE TRILOGY- Part III
Dates: 15-17 November 2023
Scientific Programme: PDF Document | 10 pages | 669 KB
Venue: Orthopaedic Hospital Speising, Vienna (Austria)
Registration: https://otcommunityid.m-anage.com/Account/Login?context=Event&shortname=nov2023&language=en-GB
CME accreditation: In the process
Case Presentations submitted by participants: Instructions
Fees (incl. 10% Austrian VAT)**:

Course fees (incl. 10% VAT):

Early registration fees* (valid until Sunday 29th of October 23h59 CET):
Participants EUR 550.00
EPOS members** EUR 450.00
Residents** EUR 400.00

Late registration fees (no onsite registration possibility and valid as of Monday 30th of October):
Participants EUR 650.00
EPOS members* EUR 500.00
Residents** EUR 450.00
Course dinner***: EUR 60.00
* Proof of status mandatory
** The early registration fee is only when the payment is made before the early registration deadline
*** Course Dinner: Will be held on Wednesday 15th of November at 20h00. Interested participants may buy a ticket via the course registration

Registration fees include:
• Participation to all course educational activities
• Lunches & Coffee breaks

Expenses related to flights, accommodation, airport transfers, dinners etc. are at the participants' own expense.
Highlights:
Neuromuscular Disorders
Disorders of the Spine
Upper limb Deformity and Malformations
Bone Tumors
Knee Disorders
Musculoskeletal Infection
Methods of education:
Theoretical Lectures
Controversial Issues
Techniques in Paediatric Orthopaedics
Expert Lecture
Case Discussions
Workshops
For any further inquiries concerning the course, please do not hesitate to contact us via courses@epos.org