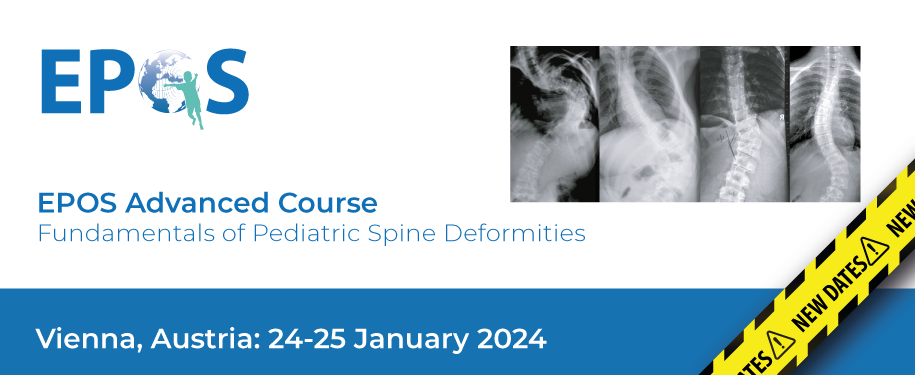 EPOS Advanced Course - Fundamentals of pediatric spine deformities
Dates & Venue: 24-25 January 2024, Speising Orthopaedic Hospital, Vienna, Austria
Scientific Programme: PDF Document | 8 pages | 1.03 MB
Description: This event is aimed at pediatric orthopedic surgeons and fellows who want to improve their knowledge on pediatric spinal deformity assessment and management. During the past years, progress has advanced the understanding and treatment of many aspects of pediatric spinal deformity that have resulted in new clinical applications and new treatment options. Several renewed experts in the field will deliver multiple lectures addressing all aspect of pediatric spinal deformity, including new diagnostic tools, indication for surgery and management of complications. Four to six interactive workshops will complete the educational program.
CME accreditation: 8 European CME credits (ECMEC®s) have been accredited for the course. Please note that each medical specialist should claim only those credits that he/ she actually spent in the educational activity.
Registration:
* Option 1: Registration only to this course, follow this link: https://otcommunity.m-anage.com/Login.aspx?event=jan2024
* Option 2: Registration to both January Advanced courses (Spine Surgery Course (24-25.01) and Fundamentals of Pediatric Orthopedic Oncology (25-26.01)) by paying a combined reduced registration fee, follow this link: https://otcommunity.m-anage.com/Login.aspx?event=jan2024

Course fees (incl. 10% VAT)**:

Early registration fees* (valid until 24th of December 2023):
Participants EUR 400.00
EPOS members** EUR 300.00
Residents** EUR 250.00

Late registration fees (valid as of 25th of December 2023. No registration possible onsite!):
Participants EUR 500.00
EPOS members* EUR 400.00
Residents** EUR 350.00
IMPORTANT! You have a possibility to participate in both January Advanced courses (Spine surgery course (24-25.01) and Fundamentals of Pediatric Orthopedic Oncology (25-26.01)) and pay a combined reduced registration fee as follows:
Early registration fees (valid until 24th of December 2023):
Participants EUR 600.00
EPOS members** EUR 450.00
Residents** EUR 350.00

Late registration fees (valid as of 25th of December 2023. No registration possible onsite!):
Participants EUR 700.00
EPOS members* EUR 550.00
Residents** EUR 450.00

* Proof of status mandatory
**The early registration fee is only when the payment is made before the early registration deadline

Registration fees include:
• Participation to all course educational activities
• Lunches & Coffee breaks
Expenses related to flights, accommodation, airport transfers, dinners etc. are at the participants' own expense.